Coin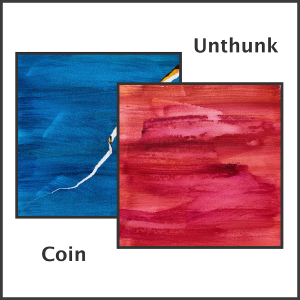 A coin has two sides, as does this collection of pieces.
In the midst of building pieces based on "the unaccommodated man", an intriguing phrase from King Lear*, I changed tack to work on the the music for a make-believe suicide cult with a friend. When the latter activity petered out, I was left with a handful of serviceable pieces from each initiative.
The "unaccommodated man" pieces are internally-directed. They spring from a state whereby the character has flung aside the cloak of civility and faces solitude in the wilderness.
The suicide cult pieces are based on the premise that the Order of Eternal Tranquility founder, Brother Dvi, has recruited a subject – christened Reverend Terrapin – to write ceremonial music to serve the religion. The resulting pieces are thus explicitly social and practical – diametrically opposed to the "unaccommodated" set.
Words and music by Trevor Tunnacliffe, unless otherwise credited.
~*~*~*~
LJ Mounteney – vocals
Carman J Price – vocals
Audrey Chandler, Calla Kra-Caskey, Eva Melin-Gompper and Emma Powell – vocals
Lisa Jensen – oboe
Christiaan Venter – clarinet
Holly Bryan – horn
Finn Manniche – guitars, cello
Nina Horvath – keys
Rebecca Tunnacliffe – keys
Trevor Tunnacliffe – basses, guitars
Buff Allen – drums, percussion
*See http://shakespeare.mit.edu/lear/lear.3.4.html
Available on Bandcamp and Spotify.